How does this help my child?
At English Ninjas, we believe that structured practice makes progress. With this in mind, our Intensive Revision Workshops are designed as short term support for students who want or need help in specific areas of concern.
Students will benefit from attention to skills that help them in the various components and an increased awareness of how they can improve their answering technique.
These workshops are meant to supplement students' revision and do not take the place of regular revision and practice.
NOTE:
You may choose a specific area that your child needs more support in, or take up all 3 workshops.
Workshop mode:
In-person or Remote via Zoom
Please note that our P5 and P6 Intensive Revision workshops are HYBRID which means that you may choose to attend in-person OR remote via Zoom.
However, once you have decided on an attendance mode (in-person OR remote), you will only be allowed to change this for medical reasons.
If you are choosing remote lesson, please note that your child will need to be in a quiet space, have access to Zoom, Google Docs and preferably a laptop to get the most out of the workshop(s).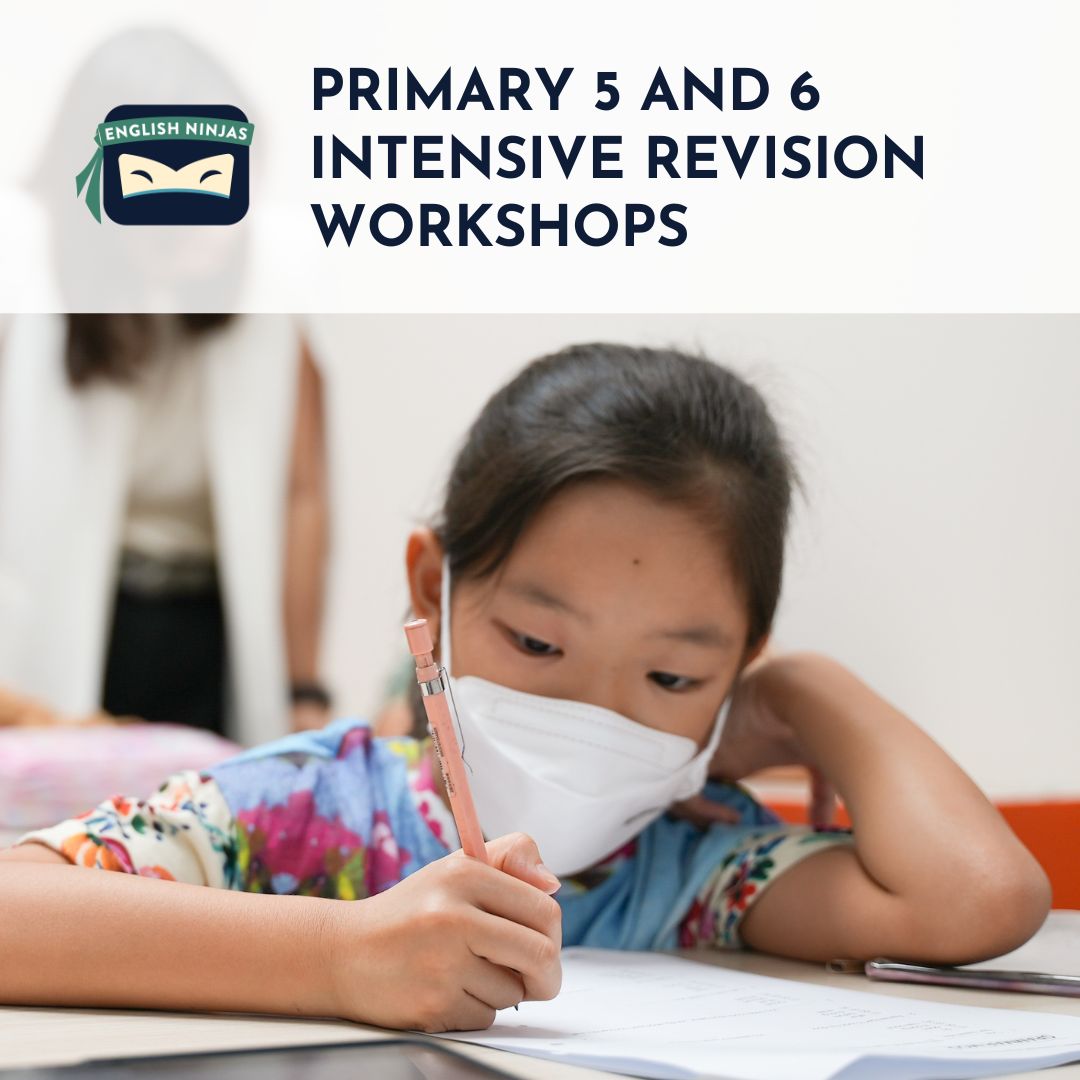 2-Day Situational Writing

A component in Paper 1 where students can score full marks or close to full marks with proper guidance. Situational Writing involves learning about formal and informal writing in emails, letters and report. Students will learn skills that make a real difference to their Situational Writing to impact their task fulfilment as well as language.

For those in Primary 5, this is a new component! For those in Primary 6, it is time to excel in this component!

Skills covered include

Expressing tone
Structure of different text types
Presenting information convincingly

(Day 1) Date and Time:
Thursday, 30 March 2023, 2:45pm - 4:45pm
(Day 2) Date and Time:
Saturday, 1 April 2023, 1:30pm - 3:30pm

Total Duration: 2 sessions x 2 hours
Workshop Fee: S$160
2-Day Comprehension Open-Ended

More than just reading a story and answering questions, Comprehension Open-Ended is about reading between the lines, seeing nuances and being able to express what you understand.

Using our Predictive Reading Method, students learn to break down information in a way that helps them understand the passage better and then learn a structured way to answer key question types found in this component. Your child will be able to apply these to his/her paper immediately!

What Your Child Will Learn

Techniques covered include

English Ninjas' Predictive Reading Method
Identifying key details and characters
Covers current questions trends
Breaking down cause and effect, and sequencing of events

(Day 1) Date and Time:
Thursday, 6 April 2023, 2:45pm - 4:45pm
(Day 2) Date and Time:
Saturday, 8 April 2023, 1:30pm - 3:30pm

Total Duration: 2 sessions x 2 hours
Workshop Fee: S$160
2-Day Comprehension Cloze

Practice makes progress! A pinch of current affairs, a dash of history and a spoonful of vocabulary are the ingredients for a well baked comprehension cloze. Topped with creamy fresh grammar and the cake is set to be a bestseller!

Pick up skills that help in comprehension cloze, which is a big part of Paper 2 in Primary 5 and 6 English.

Skills covered include

Reading for understanding
Sourcing for clues in the passage: English Ninjas Method
Practice Vocabulary Collocation
Level up in Comprehension Cloze Passages
Key exam skills

Themes
Materials are designed to to pique curiosity, covering a wide variety of themes including current affairs and general knowledge.

(Day 1) Date and Time:
Thursday, 13 April 2023, 2:45pm - 4:45pm
(Day 2) Date and Time:
Saturday, 15 April 2023, 1:30pm - 3:30pm

Total Duration: 2 sessions x 2 hours
Workshop Fee: S$160